One of the benefits of having an Agent who has extensive claims experience is the context and knowledge of knowing how the policy actually works.
Pipe Bursts- an all too common scenario!
Water losses of the most frequent and costly claims insurance companies have to pay for.  While you are covered from bursting pipes, no matter how good the claims department is, it is not something people tend to enjoy.
Imagine- it is November, and the weather has finally let up.  That night, you hear a large snap.  As you investigate- you hear water, and suddenly, feel water at your feet.  Panic sets in, where is the water coming from, how do I turn it off?  15 minutes go by, and after googling how to the shut-off the water, you finally get it to stop.  Silence sets in, complemented by the sound of dripping water, and moisture in the air….How do I get this water out of my home?  How much damage was the cause?  What about mold?  How will I get the kids ready for school in the morning, or cook meals?
At this time- calling the claims department will get an emergency water mitigation company to your door.  They will extract the water, and start removing wet carpet, hardwood floors, and cabinetry.  Hours later, they leave your home with these giant noisy fans and dehumidifiers.  Your part- $1000+ deductible, and a massive interruption to your already busy life.  This won't include the restoration time and disruption.
Prevention- How about we not spend our weekend listening to fans drying out your home.
What happened?  Copper pipes can suffer blockages from the cold weather- causing the pipe to swell and burst under pressure.  This is why it is recommended that you leave the sinks dripping during the cold months, moving water is less likely to freeze.
You can also make sure that the pipes are wrapped in high-risk areas.  Kitchens that face an exterior wall are the main culprits and bathrooms that tend to be cold in the winter months.
Safeco and Flo by Moen
As a former claims adjuster, I am tickled pink when I see insurance companies try to help clients before a loss!
Safeco has partnered with Moen and its product- Flo.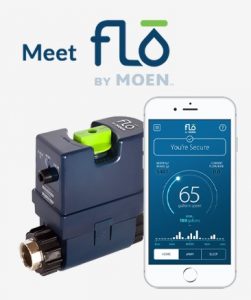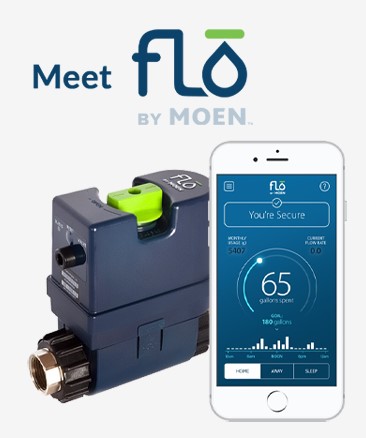 Flo is a water monitoring device with an automatic shut off valve!  The device is professionally installed into your pipes and monitors activity.  They claim they can even detect small drips.
In the event of a pipe burst, the device will detect the burst and that green knob will turn- ending the crisis and alerting the user on their phone of a potential pipe burst!
For users who enjoyed products like the Nest- this is right up their ally!
On top of that, for $5.00/month they will pay your deductible up to $2500 should the device fail to prevent a claim!
Safeco is offering to pay for $125.00 of the installation cost for its clients if you purchase it through your agent!
While education is powerful, actively helping their clients BEFORE a claim is a thing of beauty.  Before the skeptic in your mind goes to- well then they have to pay fewer claims!  Let me tell you, the fewer claims they pay, the lower your premium gets.   Premiums increase due to losses and the costs associated with them.  Fewer claims, lower premiums!
Though we are located off the Marietta Square, give us a call any time!