First Time Homebuyers and escrow
There are many hurdles that first-time homebuyers go through; one of the last ones is Homeowners insurance or hazard insurance.
There are a few types of insurance, such as PMI, home warranty, and hazard.   We will go into the differences in another article.  For now, let's discuss hazard insurance and why your mortgage company will require it, and likely force you into an escrow.
Mortgage companies are taking a slight bet when it comes to loaning money for a home.  To hedge that bet, they will require hazard insurance.
Since many first-time homebuyers do not have an established history of paying a mortgage, an escrow account is set up to help with that transition.
Think of it this way, if you are a W-2 employee, your employer will estimate how much income tax to withhold, and pay the government every two weeks.  Doing so will limit the risk associated with not having the money to pay the full bill come April 15th.
With an escrow account, the monthly mortgage due will include the principal (paying down the loan), interest (for the mortgage company), then the escrow (estimated property taxes and hazard insurance).
What any experienced homeowner will tell you is that escrow accounts aren't always accurate.  Sometimes the account has too much or too little.  In these events, the escrow account will refund the excess (like getting money back after April 15th), or increase your monthly mortgage amount.
Nobody will work as hard for you, as you will for yourself.
Mortgage companies are not studiously watching over your escrow account.  Shocker, I know.  These accounts are only looked at when a bill comes due.  Then some equation is used to estimate your taxes and insurance.  Leading to large shortages or overages.  In either case, you are still responsible for bills.
While many insurance companies will provide discounts for paying in full, this is often limited to AUTO policies in Georgia.  That means homeowners' policies can be paid MONTHLY with no change in the overall cost.
If you have regular issues with your mortgage payments fluctuating regularly, reach out to your agent and see if you can't pay the Homeowners bill yourself.  This will remove part of the equation from your escrowed account.
In the end, escrow accounts are your accounts.  They are just not readily available to keep individuals from "borrowing" that money and protecting the home from…the homeowners.
Most people we talk to have no idea what they are paying for the
hazard insurance
I can already feel the glare of 100's agents.  Most insurance agents will move mountains to get potential clients on the phone and put together a policy, hoping never to touch the file again and collect the renewal business.  Part of that strategy is escrow accounts.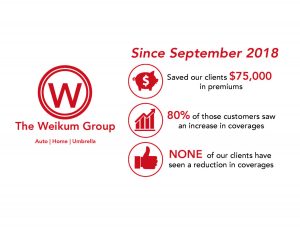 Do you know how you accomplish a feat of saving over $75,000 for our clients in one year?  We find carriers who like you as a client, bundle home/auto/umbrella/toys, etc., and encourage our clients to pay in full.  Credit scores, payment history, payment type, loss history, these all tell a story of a responsible low-risk client.  Most people had no idea they could have been saving money, and assume the monthly rate is the annual rate just divided by twelve.
While we are near Marietta Square, we service all of Georgia.  Even if clients do not think they would be a good fit, we build a profile and following up when these tickets/claims fall off results in saving our clients $1,000 in insurance premiums.
Look, we like insurance.  We think it has an incredible value, but we also believe you should have the RIGHT coverage and for the lowest price.  No fluff, we aren't butchering coverages to save money, we care about our clients enough to complicate our business to have more than one option.