Profile
In this recent case study- our clients are a middle-aged married couple with a great credit score, owns a home, and two vehicles.  They have a clean driving record over the last 5 years.  These clients have over $1,000,000 in total assets (savings, equity, earning potential).   This client owns and operates their own business out of their home.  The home has a full basement and is roughly 20 years old.
You might be wondering why we are comparing two of our own carriers against each other.  I would then ask you, have you been listening to what we are saying?  We are client advisors.  Independent from the ties of any one company.  TWG's sole focus is on the client and their needs.  While we love Travelers and Safeco, we will always place our clients in the best possible carrier.
Coverage
Auto
We started by increasing their limits to protect against a catastrophic loss.  The current policy shows 300 Combined single limits.  Context matters when discussing coverage limits.  Combined Single Limits (CSL from here on out) are a great way to be flexible with coverages.  Instead of having a cap of 250 per person and 500 total, we can combine both the BI limits and PD limits into a single limit.  CSL allows for bodily injury payments to exceed 250,000 and property damage limits to exceed 100,000.  The drawback, in this case, is that there is technically 100,000 less in coverage should you find a way to max out the split limit coverage equivalent.  If the client were to only cause 250,000 of bodily injury to two people and total a 100,000 vehicle, the CSL limits will fall short.  Yet we feel that there is still a lot of value in not being restricted at 250 or 100.
These assets will mean little if they find themselves at fault for a catastrophic loss.  Like it or not, people who have accumulated assets are an easy target in court and a large loss may prevent our client from retiring.
When it came to Uninsured motorist coverage- we do not write policies that insure other people for more than we insure our clients.  (To read more about Uninsured motorist)  Since we have elected for 500 CSL over 300 CSL, we are able to leverage more coverage for our client.
We both agreed to go with higher deductibles for auto coverage.  At TWG we feel that insurance is for catastrophic losses.  High deductibles will prevent clients from using their policies for small losses.  More often than not, a small loss will cause increases in the premium charged over a 3-5 year period, often exceeding the payout after their initial $500  deductible.
The previous rental car coverage at 30/900 was simply not enough.  The client has teenaged children who are very active in sports.  Minivans, traveling tournaments for the next 4-6 years.  Not having a minivan if the vehicle is in the shop could put a financial burden on our client if they have to pay 1000 deductible and the difference between 30/day and 50/day.
Ten years ago, $30/day left many clients with out of pocket costs after coverage.  While often not a deal-breaker,  in our experience after clients pay their deductible, they do not expect to be nickeled and dimed by low limits with a rental car.  Further, to increase the coverage 30/900 to 40/1500 is often only a few dollars a month.
While Travelers does offer a $50 dollar deductible for windshield replacement, the prior agent elected to not have this as part of their package.  We feel differently here at TWG.  Glass claims are quite common, and a 250 deductible for a 400-500 windshield just doesn't make a lot of sense to us.
Homeowners
For the Homeowners policy, we agreed on the prior policies assessment of a rebuild cost of $335,000.
Given that our client has a tremendous amount of assets, and their home office is out of their home, we have pushed the liability limits to $500,000 over the traditional $300,000.  Carriers are often uncomfortable with businesses that are inherently dangerous (Farming for example) or have a high amount of foot traffic (hairdressing) this business does not expect to see clients on-premises regularly.
Medical Payments are always set at $5,000.  This is due to the benefit provided and the low premium increase to do so.
All clients with TWG have $5000 in the water back up.  Standard, no quote goes out without this coverage.  Water back up is a common loss that is often excluded when agents focus on price.  I cannot count how many times I have walked into client's home as an adjuster with no intention of making the payment but using that time to get proof for the denial should it go to court. Please note that $5000 in the water back up will only likely cover the removal of sewer water, but we feel some coverage by default is better than no coverage.  Many of our clients may elect for more coverage depending on their risk tolerance.  As much as we love insurance- not everyone wants to be insured against every little occurrence at the cost of price.  Remember- Losses are rare, premiums are monthly.
The home was built in 2000.  With all homes over 15 years old, we elect to have building code endorsed to the policy.  As the home ages, the severity (how expensive claims are) of losses increase.  This is often attributed to just an aging structure, along with the increased cost due to rebuilding the home up to code.  New construction homes are less likely to need this coverage as a result.  Since this home has a higher chance of needing this coverage, we have elected to have it on the policy.
Home Business endorsements.  Most policies exclude, or limit business activities and assets in a homeowners policy.  Some policies will pay a pre capped amount of either $2500 or $5000.  Since our client operates their business out of their home, we have endorsed the policies liability and contents coverage to include business pursuits.  The prior policy did not have this as an option, ultimately leaving the client uninsured for their business contents.  Losing their home in a fire would be a horrible loss.  The same fire without coverage to their contents could cause them to lose their business as well.
Umbrella Policy
Many affluent clients take advantage of umbrella policies. Umbrella policies are a low-cost option for adding anywhere between 1 million, to 10 million in additional liability.  The unsettling truth is that having low limits does not limit what a person can sue for.  In fact, while in Subrogation, we were often tasked with looking up the assets of the people we were pursuing to determine how much time and assets we would invest to recover payments to our insureds.  We were able to add another $1,000,000 in coverage for $267/year.
After all, this discussion on increasing coverage Travelers felt they could offer this client more coverage at a lower premium.
We focus on building a profile that meets the client's needs for this exact reason.  Finding the right carrier who thinks our clients are rock stars.  That is how we save the client's money.  Not by chopping up coverage and leaving clients with denial letters at their time of need.
Here is a prime example of why we build our own profiles and avoid comparing "apples to apples".  After we decided to partner with Travelers, this client admitted to never even meeting or speaking with his current agent and was no explainable reason for their prior coverages.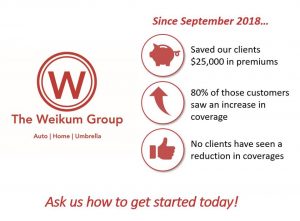 If you have recently received a bill from your insurance company, felt you are paying too much, or do not know what you are paying for, give us a shout at 678-921-3601 for a free insurance profile.  Even if we cannot help you, we will give that profile, free of charge.  We want everyone to be properly insured, even if it not through us!